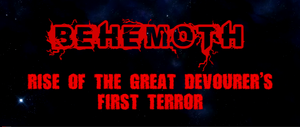 The BEHEMOTH Trilogy is a three-part series created by Eliphas the Inheritor. The trilogy takes place in the same universe as If The Emperor Had a Text-To-Speech Device, set about 300 years before the first episode. The storyline is focused primarily on the First Tyrannic War, and stars Inquisitor Kryptman and his Deathwatch Killteam as they fight against the newly discovered Tyranids. The trilogy crosses over with TTS as it features a longer version of Marneus Calgar's duel with the Swarmlord in Episode 8, and features much of the same cast. The trilogy also implies that the abnormal victory record of the Ultramarines began during the Battle of Macragge.
Alfabusa as Draken, Magos Varnak, Ultramarine Honor Guards, Vilhelmus
ComradeCrimson as Kryptman and Lynius, Tau Female
Dr. White as random Stormtrooper, Acolyte 2
Earndil as Astropath
Eliphas as random Ultramarine
FanofWar40k as Pythorogus
The Fresh Sorcerer as the Narrator
Fusion as random Blood Raven
Larry Luxus as Telion
SpikyRhinoBox as random Stormtrooper, random Inquisitor, random Squat, Godfrey, Acolyte 1
StellarElite as Volund, Wilford, random Ultramarine, Squat leader, Ork, Mikelus, Ortan Cassius
Stupidfart9876 as random Stormtrooper, Cornelius (cameo from Retarded Squad)
ThunderPsyker as Tech Priest, Johnny (cameo from The Emperor's Finest)
Yohan Gasmask as Calato, random Ultramarine
Community content is available under
CC-BY-SA
unless otherwise noted.