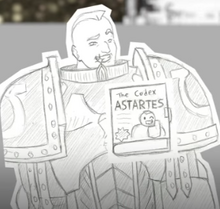 The Codex Astartes is a book written by Roboute Guilliman that was adopted by the Space Marines after the Horus Heresy had ended. The book contains vast quantities of information on battle stratagems, army organization, and other useful information. However, the main requirement of the Codex was a demand that all space marine legions had to be broken up into chapters of no more than 1000 men, in an effort to prevent a repeat of the Horus Heresy. In TTS, The Emperor openly despises the breakup of the legions and hates Guilliman for writing the Codex Astartes.but later accepted it as a good idea for the sake of the imperium
Not all chapters follow the Codex in its entirety:
Community content is available under
CC-BY-SA
unless otherwise noted.