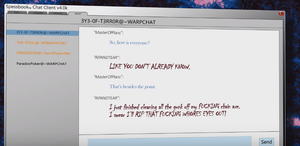 The Warpchat is a warp-based instant message client for Spessbook that the deities of the Warp use to converse with each other. The scenes were written by Dr. White and were originally intended for a spinoff series.
Rooms available on the Warpchat include:
3Y3-OF-T3RR3R@~WARPCHAT - The one seen used most frequently
THE-FOOL@~WEBWAYCHAT
CREEEEEEEEED@~SanctPsykerNet
ParadoxPoker@~WARPCHAT
The following characters with their screen names are:
Community content is available under
CC-BY-SA
unless otherwise noted.